A large number of regular smokers will tell you it is quite challenging to stop smoking cold turkey. In other words, it is near to impossible to withdraw suddenly and completely from smoking.
Some would recommend using FDA-approved medication to those trying to kick the habit. The most common suggestion a regular smoker usually gets is to use alternative smoking devices such as e-cigarettes, heat-not-burn devices, vape, etc.
US President Donald Trump recently announced a ban on the sale of flavored e-cigarettes following a series of vaping-related deaths. Following in the footsteps of the United States, the Health Ministry of India is gearing up to prohibit the use of smoking devices as part of the first 100 days agenda of the Modi government's second term.
Here's everything you need to know about e-cigarettes and why are they getting banned
With the number of vapers increasing, the e-cigarette market is growing rapidly with the U.S., U.K., and France being the biggest markets. Vapers in the aforesaid countries spent more than a whopping $10bn (£8bn) on vaping products last year. According to Euromonitor International, here are the top 10 markets for vape products.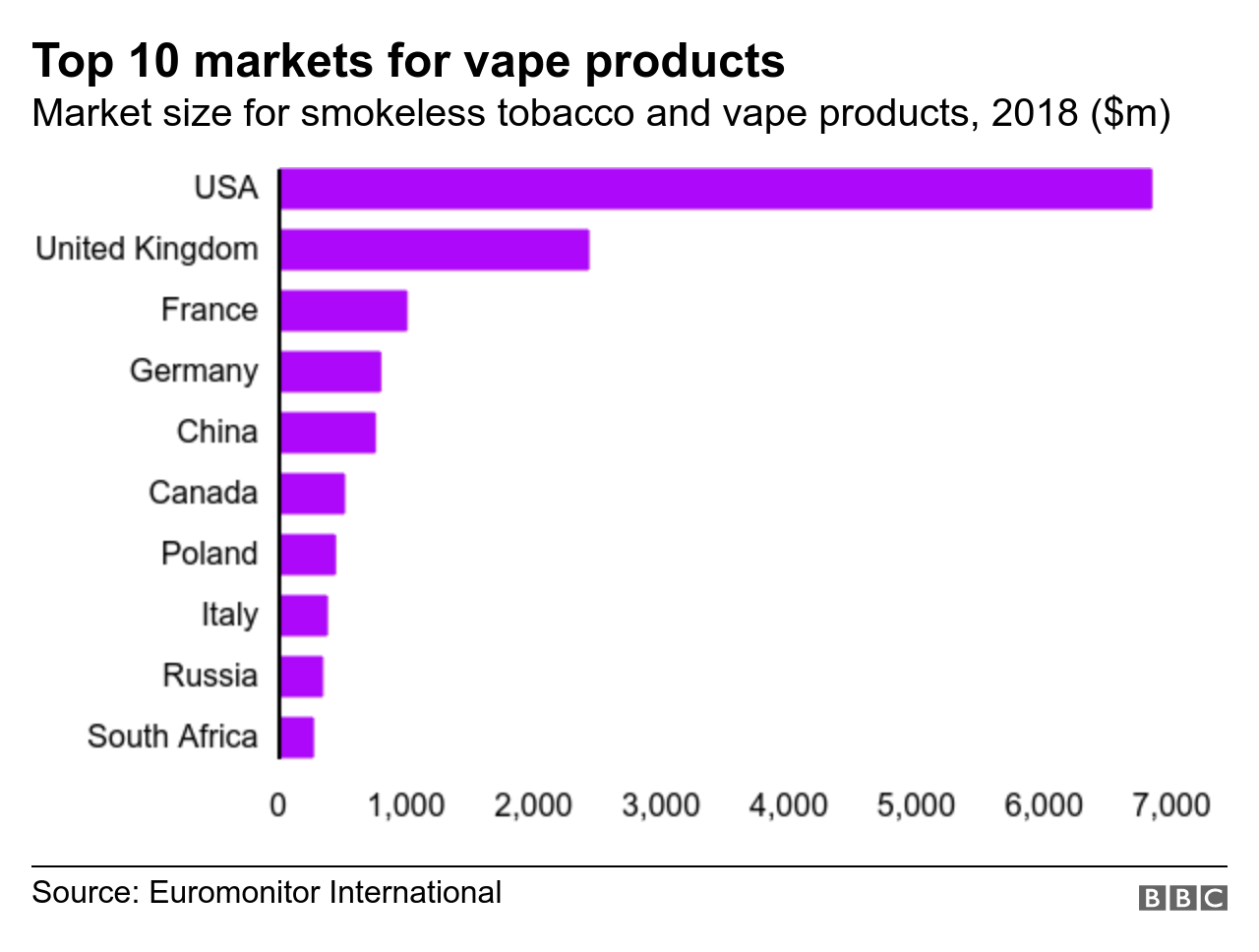 E-cigarettes can be classified into two types — open and closed system or open and closed tank. The liquid in an open system is vaporized and can be refilled manually, and it comes with a removable mouthpiece.
Closed system e-cigarettes, on the other hand, refer to devices that use ready-made refills that can be attached directly on to the e-cigarette's battery.
This year, vapers are likely to spend an estimated $10bn (£8bn) on closed system e-cigarettes, which is relatively higher than what they spent on open system e-cigarettes for the first time.
Is vaping safe?
The burning question on everyone's mind right now is whether or not vaping safe. Michigan became the first state in the U.S. to ban flavored e-cigarettes. The move came after reports of deaths and lung illness surfaced. It is worth noting that those affected had an average life of 19.
E-cigarettes aren't exactly safe as they carry a fraction of the risk of regular cigarettes, according to U.K. based doctors, public health experts, and cancer charities.
An independent review suggests vaping is 95 percent less harmful than smoking. In his review, Professor Ann McNeill says, "e-cigarettes could be a game-changer in public health."
While at much lower levels, the fact that e-cigarettes contain harmful chemicals cannot be ignored. The World Health Organization has associated multiple health-related problems with vaping.
Does Banning E-Cigarettes Make Sense?
You are highly unlikely to bump into someone who uses tobacco in any form, or any other addictive substance without being completely aware of its negative effects on the human body. Most vapers and smokers realize they are risking their well-being by using these substances.
A caring government would ideally take steps to ensure the nation is not addicted to a life-threatening substance, and that makes a lot of sense too.
However, with cigarettes and other tobacco products freely available in the market, is the ban on vaping products justified?
If we aspire for an addiction-free society, it is imperative for us to first stop using these products that do no good for our body but lead to cancer and other equally dangerous diseases instead.
Do you think the ban on vaping products will eventually help vapers in the long run? Share your thoughts in the comments section below and stay tuned in to WittyScoop for more engaging and relatable content.